Welcome!
Welcome to our promotional products show place!
Inky Elf offers thousands of products guarnanteed to fit all of your marketing and gift giving needs. When used in conjunction with Inky Elf's design, print and marketing services, we are sure to be your go to resource for all things marketing.
Featured Item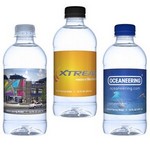 12 Oz. Custom Label Bottled Water (FOB T...
FOB TX - This 12 Oz. Custom Labeled Bottled Water has a small & compact design that is perfect for advertising your company. We have 5 shipping locations and offer very competitive freight rates; call...
$0.549 - $0.895